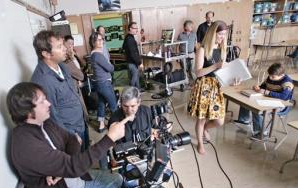 "Schools not reeling in cash from film shoots"By Beth Winegarner
Superstars such as Nicole Kidman and Sean Penn have had some unlikely co-stars in their films: San Francisco public schools.
A number of films have been shot on local campuses, including "Hemingway and Gellhorn" and "Milk." Although such projects earn the San Francisco Unified School District $880,000 a year, the majority of school-site filming is for advertising and corporate videos, which are not eligible for city programs intended to lure film crews here.
Clarendon Elementary played the part of a 1970s-era school in a Blue Shield of California commercial filmed recently, said lauren schwartz, owner of kaboom productions and producer of the ad. Parts of "Milk" were shot at Everett Middle School, while "Hemingway & Gellhorn" filmed at 135 Van Ness Ave., one of the district's administrative buildings.
In April, San Francisco expanded its perks for film crews working locally. However, many projects filming in schools are too small to qualify for rebates, which could limit the amount of money the school district makes from hosting film crews, said Lauren Machado, film coordinator for the Film Commission.
kaboom has operated in San Francisco for 17 years and has been pushing The City to include ad filming in its rebates, but it hasn't paid off.
"I try hard to keep shoots here because I want to support the community," schwartz said. "I'm psyched we're giving money to the public schools."
The district accepts about 10 shoots per year, charging $82 an hour for the privilege, according to district officials. Much of that money pays for security and cleanup costs, but some goes back to the district, school board member Jill Wynns said. Crews also pay for city permits, insurance and other expenses.
"It's great, as long as the money makes its way back to the kids and not into some administrator's pocket," said Michele Jones-Siegel, whose children attend Clarendon.
kaboom donated extra funds to Clarendon, which schwartz's child will attend in the fall. Ed French, a San Francisco-based location manager who filmed a Chevrolet event at Claire Lilienthal School last summer, also donated to the school after his shoot.
"They don't ask for that, but oftentimes it makes it worth their while," French said of thedonations.
Crews are generally restricted from filming when schools are in session. "The district is very protective of the kids," he added.
Rolling the cameras
Number of projects filmed in S.F. schools: About 10 per year
Cost to film in a school: $82 per hour
Film fees paid to SFUSD: $880,000 per year
City fees: $100 to $300 per day
Police fees: $104 to $110 per day
Productions citwide that applied for rebates: 9
Average rebate: $189,871.51
Maximum rebate earned by a production: $600,000 ("Trauma")
Productions filmed citywide from 2008 to April 2012: 504
Sources: SFUSD, Budget Analyst's Office